Magico x Tar-Gana-Davida
Angelita WT is a 8 year old, 15 hands andalusian  mare with championship sire and dam who is sweet and intelligent.  She is professionally trained and is ready for any discipline. She is agile and beautiful and truly lives up to her name.  She is very sensible and has been taught some dressage. She  has been used as a lesson horse for beginning riders and is very safe and sound with no bad habits.  Loads easily in a trailer.
She is a great prospect for  trail riding or pleasure riding.  For more information contact us through this website.
We have three babies for sale.  They are six months old and have been worked with ground work from day
one and are all easy to work with.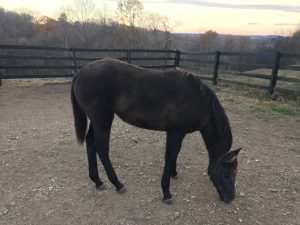 This is "Roxie". Her Spanish name is Desdemona.  She is  A half Andalusian, Half Quarter Horse cross.  She is a great dressage or reining prospect.  Shc is for sale for $3500.  We will continue to work with her until she is sold.  She will probably be close to sixteen hands.  Her sire is Saltadoro ORO who has an amazing pedigree including Champions of Spain and Mexico and important foundation sires in the lines of Terry, Guardiola and Cardenas.  She is registered with the IALHA as a half Andalusian.
RINGO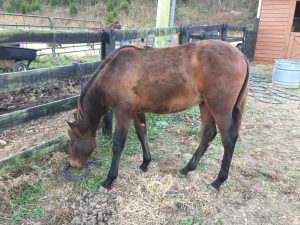 This is our colt "Ringo" His Spanish name is Gallardo. He is six months old and is going to be a wonderful addition to any Andalusian herd. He is bay.  His sire is an imported qualified P.R.E. BLACK stallion from Spain, Persiles,  who is a recommended Dressage Producer.  His sire is the only black stallion in the U.S. with 3 ANCCE stamps (Revised, Qualified, Reproductor Recommendado Apitud Morfologica.  He has black, chestnut, bay and gray offspring registered in the Spanish studbook.  The sire is 16.1 hands, with an elegant neck, lofty gaits which he routinely passes on to his offspring.
Our colt is registered with the IALHA and is for sale for $6,500.  He has been ground worked since birth and is very sweet and easy to work with.